How to walk the Pembrokeshire section of the path by public transport
A practical guide with useful hints and tips by Vivienne Crow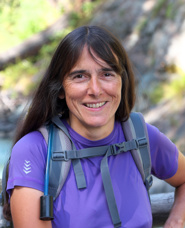 Walking the Pembrokeshire Coast Path by public transport
By Vivienne Crow
Vivienne Crow is an award-winning freelance outdoor writer and photographer. She has written more than 20 guidebooks including two of the official guides to the Wales Coast Path.
The Poppit Rocket. The Puffin Shuttle. The Celtic Coaster. I love these evocative names! They are some of the great little buses that allow walkers to complete the Pembrokeshire Coast Path from just a handful of bases, rather than moving on to new accommodation each day.
As the author of Northern Eye Books' guide to the Pembrokeshire Coast Path, I may be biased but I think this is the most spectacular section of the Wales Coast Path. It runs for 186 miles (300km) along the rugged fringe of the south-west corner of the country – from St Dogmael's (Llandudoch), near Cardigan (Aberteifi), to Amroth Castle on the border between Pembrokeshire (Sir Penfro) and Carmarthenshire (Sir Gaerfyrddin). It winds its way along the top of remote cliffs, in and out of secluded inlets and along seemingly endless beaches, allowing us to immerse ourselves in a dramatic landscape that's rich in natural history and human heritage.
Many people choose to walk the National Trail in one go, usually over about 14 days, hiking from one place to another and stopping in a new town or village each night, but that's not to everyone's taste, and isn't always practical.
Regular buses – as well as trains around the Pembroke (Penfro) and Tenby (Dinbych-y-pysgod) area (Transport for Wales is the only provider between these two places) – mean you can stay several nights in one place and still complete the entire trail. Do it in one go – over two weeks – or turn it into a long-term project, walking just a few days at a time and returning when other commitments allow.
St Dogmaels to Fishguard
When I last walked the trail, I split this 28-mile (45km) stretch into three days, although some walkers do it in just two. This wild, undulating and often remote part of the north coast is served by the number 405 bus, known as the Poppit Rocket. It sets off from Cardigan and calls in at St Dogmaels, Poppit Sands, Moylgrove (Trewyddel), Newport (Trefdraeth), Dinas, Pwllgwaelod and Lower Fishguard on its way to Fishguard (Abergwaun) town centre. Highlights include a collapsed sea cave known as the Witches' Cauldron and the pretty harbourside settlement of Lower Fishguard.
Fishguard to St Davids
Bus number 404, the Strumble Shuttle, runs between Fishguard and St Davids (Tyddewi) via Goodwick (Wdig), Strumble Head (Pen-Caer), Trefasser Cross, Tregwynt Woollen Mill, Abercastle (Abercastell), Trefin (Trevine), Porthgain and Abereiddi. Easily split into three days' walking, this is a particularly atmospheric section where the cliffs are dotted with prehistoric remains, including forts and burial sites. I once heard grey seals barking at each other near the dramatically positioned lighthouse on Strumble Head, but there's also a good chance of spotting dolphins and even whales from here.   
St Davids peninsula
Although the National Trail bypasses St Davids, most coast path walkers call in on the UK's smallest city. And, with the Celtic Coaster (403) operating a half-hourly service around the St Davids peninsula every day throughout the summer, you could spend a few nights here, breaking up your walks with a spot of sightseeing. The city's most famous landmarks are its cathedral, parts of which date from the 12th century, the ruins of the Bishop's Palace and the fascinating Oriel y Parc Gallery.
St Davids to Marloes
Having rounded the St Davids peninsula, you embark on a gentler stretch of the Pembrokeshire Coast Path around St Brides Bay, with sections of clifftop walking divided by long, white beaches that are popular with surfers. It's 36½ miles (59km) from Whitesands Bay to Marloes Sands, one of my favourite beaches in Wales. Bus number 400, the Puffin Shuttle, serves most of it, calling in at Solva (Solfach), Newgale (Niwgwl), Nolton Haven, Druidston Haven, Broad Haven (Aberllydan), Little Haven (Aber-bach), St Brides, Martin's Haven and Marloes village.
Marloes to Pembroke
Many of the settlements along this 30½-mile (48km) section can be accessed via the 315 Haverfordwest to Marloes bus. It calls in at Dale, St Ishmael's (Llanisan-yn-Rhos), Herbrandston, Hubberston and the town of Milford Haven (Aberdaugleddau) as the Pembrokeshire Coast Path begins to negotiate the more developed coast around the Milford Haven waterway.
Pembroke to Freshwater East
I love the moment when, as the coast path rounds the Angle peninsula, you're back out on the coast proper again, striding out along magnificent beaches and over the top of windswept cliffs. Ahead lies some of Britain's finest limestone coastal scenery, including the natural arch known as the Green Bridge of Wales. It's also where you'll find the 13th-century St Govan's Chapel, the Bosherston Lily Ponds and the Stackpole National Nature Reserve. Use the 387/388 Coastal Cruiser to explore this varied 36-mile (58km) stretch of coast.
Freshwater East to Amroth Castle
The final 18 miles (29km) of the Pembrokeshire Coast Path can be accessed via the Pembroke Dock branch of the West Wales Line, which is serviced by Transport for Wales, with trains stopping at Pembroke Dock (Doc Penfro), Pembroke, Manorbier (Maenorbŷr), Penally (Penalun), Tenby and Saundersfoot. Pembroke and Tenby are also linked by the 349 bus, while the 351 goes out to Amroth Castle.
Practical considerations for walkers
At the start of each day on the trail, I'd personally recommend travelling out by bus and then walking back to your accommodation, but that's only because I don't like to feel under pressure to rush for the bus – or be faced with a long wait after a walk. On the other hand, some people might prefer leaving the bus until the end of the day so that they can vary the length of their walk depending on how they feel.
Some of the buses listed above run only from the end of May until the end of September, so it's best to consult the Pembrokeshire County Council website if you're thinking about walking the National Trail at any other time of the year. Click on the relevant links on that page for up-to-date bus timetables. Please note too that some services don't run on Sundays and some services are currently running reduced timetables due to a shortage of drivers. For train times, try the Transport for Wales site.
There are recognised bus stops in towns and large villages, but once you're in the countryside, you can flag down a bus anywhere on its route. I've always found the friendly drivers to be very knowledgeable about the local area and they'll be happy to help you find suitable drop-off and pick-up points. Pembrokeshire is part of the Transport for Wales Fflecsi scheme which allows bus passengers to book their journey via an app or by phone, and then be picked up and dropped off at a convenient point.
Basically, everything's set up to make walking the Pembrokeshire Coast Path by public transport as straightforward and enjoyable as possible.