Arry Beresford-Webb
Arry Beresford-Webb: First run of both Wales Coast Path and Offa's Dyke Path National Trail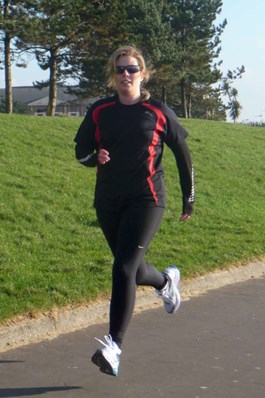 The Challenge
The entire 870 mile Wales Coast Path and 176 mile Offa's Dyke Path within 41 days. This was the equivalent of 40 back to back trail marathons, all with the intention of raising £25,000 for Velindre Cancer Centre and Gozo CCU Foundation. I set off from Cardiff Bay on 24th March 2012, and headed West to run in the perimeter in a clockwise direction. I ran the Wales Coast Path right up to the End/Start in Queensferry, and then headed back to Prestatyn to run South on the Offa's Dyke Path, rejoining the Wales Coast Path at Chepstow and finishing in Cardiff Bay at the official opening on 5th May.
Highlights
I loved Anglesey and Pembrokeshire in general, but there are so many incredible places along the whole path that it's difficult to pick one favourite spot! Also, the emotions and physical strain that I experienced due to the nature of the challenge played a big part in how I related to different places. The people I met along the way were fantastic! So kind and generous, and many who were local to the path had a real sense of pride about it! I was so grateful to the people who came to join me for sections, friends, colleagues and people I had never met before. Piers Bramhall, the face of the Visit Wales "We Want Piers" campaign, even travelled to the most northerly point in Wales from his home in London to run with me. On day 19 I ran with my brother to Barmouth, which is a place of many childhood memories of time we spent with our parents and grandparents (mum was from Dolgellau), I had a big grin on my face for that entire day!
Lowlights
My lowest parts of the challenge were not reflective of the path at all, as they were caused by physical and psychological factors. On day 4 of the challenge, where I ran the entire 32 mile stretch of the Gower in high temperatures, I twisted my knee and damaged the cartilage. This was on one of the most beautiful parts, but my memory is of pain! That could have marked the end of the run, but thankfully my grit and determination is stronger than that, I managed to gain enough strength to support the knee, as well as using some industrial strength tape and pain killers! One of the worst memories for me was when I psychologically crashed and burned during day 15 Cardigan – Newquay on the Ceredigion Coast. This was when the pain, intensity and emotions got the better of me. With the help of two close friends who ran with me and of Andy, my hero of a boyfriend, I wouldn't have made it to the end of the day. The few days following were tough mentally, but thanks to some childhood memories and familiar territory in Gwynedd, as well as my supporters, I soon bounced back! I plan on returning to do the Ceredigion Coast path again, only to enjoy it this time!
I've raised in the region of £10,000 in total, and that figure is still rising. I won't stop until I've raised my for £25K target! I feel privileged to be the first to have experienced the diversity of the entire Wales Coast Path. I would love to do it again, but at a slower pace, so that I can actually stop and enjoy the places that I saw so briefly! For more information, visit my my support page.