Name: Ruth and Bob Dennis (see picture of us in Chepstow at the finish/start point in South Wales!)
Your Inspiration: We had just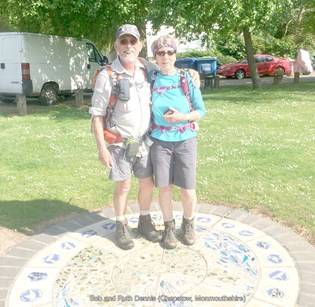 completed the South West Coast Path and it dawned on us what could be the next challenge. We have done a lot of long distance trails and were looking around for another challenge.  
Start date: 14 March 2015
Finish Date: 23rd May 2017
High Points
It was Ruth who discovered the Wales Coast Path and it seemed a natural progression.
Although it was considerably longer than the South West Coast Path, we were determined to complete it faster. So it was then just a case of get the guide book, maps, proof the boots and set off!  
Over the walk we kept coming to Wales for a week or two weeks from Plymouth. Sometimes in the car other times by train. We used holiday cottages, caravan parks, and B&B as a base then using public transport to and from walks.
We also used walking companies to arrange B&B and baggage transfer, around the Pembroke Coast Path and the last few hundred miles between Llanelli and Chepstow.  
Anglesey, Pembroke, Gower were all wonderful and lived up to expectation. Millford Haven, an area we were not looking forward to but in fact it was interesting and a delight to walk around the industrial area.
Having said that we were amazed at the scenery just past Port Talbot - who would have expected sand dunes and vast empty beaches, and the estuary walks and views across to Somerset and North Devon.
Seeing a flock of Avocets feeding near Redwick. But then again it has been wonderful all the way round with the final point arriving at the bridge in Chepstow, we did it!!!!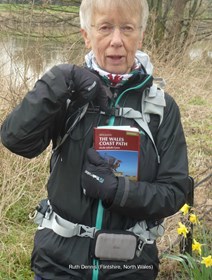 Low Points
Llyn Peninsula mainly because we chose the wrong week and it just rained. No matter how good your waterproofs are after eight hours of rain it gets through!  We had been promised Dolphins and Porpoise most of the way round and saw none.
The real low point was just after Newport you have to walk around a "travellers site" it was like walking through a municipal tip with the added attraction of dogs.
My Lightbulb Moment
While walking the Anglesey section, we were overtaken by the Ultra Marathon runners doing the Ring of Fire (a long distance endurance running race along the entire 125 mile long Anglesey Coast Path).
They were doing it in three days while we were doing it in ten days. How lucky we were to be able to walk the trail and take in the views and scenery at our leisure!