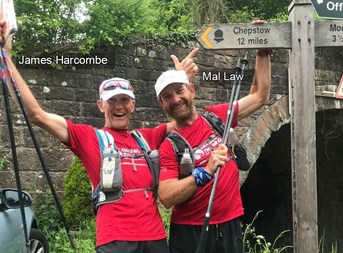 Name: James Harcombe (see image, I'm on the left with red sunglasses on my head!)
Your Inspiration
Having helped my friend and fellow Ultra Runner Mal Law run 50 mountain Marathons in 50 days, raising over $500,000NZ for the Mental Health Foundation (MHF) of New Zealand in the process, we were looking for our next fundraising challenge.
We wanted it to be a stretch challenge that would push us both mentally and physically, and hopefully inspire people to get out, be active and connect with others - something we are passionate about for our own mental well being.
We read about Arry's trip around Wales by connecting the Wales Coast Path and Offa's Dyke, and were inspired to try and do it as fast as possible.
Start date: 2nd May,2017
Finish Date: 27th May, 2017
High Points
The Pembrokeshire Coast Path was something I'd always wanted to do since I was 14 years old, so finally getting to go all the way around was a dream come true!
The other highlights involved the areas of Wales that I had no, or low expectations of. These would have to include the Ceredigion Coast, which was wild, spectacular and devoid of other walkers.  
Also, Anglesey was a delight with its variety of big sandy beaches, dunes and rocky outcrops (Holyhead was more like a Greek Isle!). 
Arriving at Strumble Head to watch the sun set behind the lighthouse was magical! Only having 2 days of rain the whole way around was also amazing! 
Finally, returning to Chepstow after setting a new fastest time on the Coast Path (20d 12h 55m) and the complete loop of Wales (25d 8h 51m), whilst also hitting our fundraising target for the MHF and Mind U.K was a very special moment.
Low Points
Unfortunately, as we were approaching Pembroke Dock Mal developed an injury that prevented him from running the whole loop. The following 2 days were tough mentally, as I came to grips with the fact that he wasn't going to be with me after 2 years of planning and training together.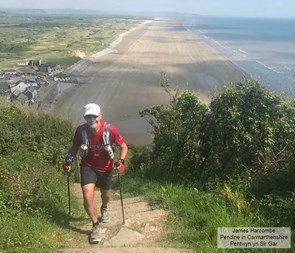 Also, at the start of Anglesey, I'd developed a foot infection from a dirty blister which put the whole trip in jeopardy. Luckily, we were put in touch with Dr Dai Roberts (an ex Commonwealth Games runner himself!) who organised some first class medical assistance with his daughter.
My Lightbulb Moment
Realising early on that I had the most amazing support crew assembled, who were dedicated to making our trip a success. So to Mal, Sally, Jean, Helen and Richard and everyone else who supported and helped us along the way, I am forever grateful.
Further information about our challenge can be found on our website www.chasingthedragon.run, Instagram @wales1700km and Facebook @chasingthedragon