Your Inspiration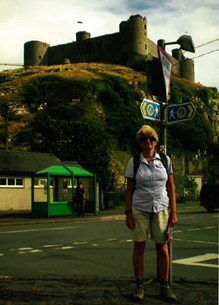 As an avid long distance walker (and LDWA member), I completed the Pembrokeshire Coast Path between 2002-2009, mainly while my husband was diving.
It was part of my challenge to walk all the National Trails in England, Wales and Scotland, which I succeeded in doing in 2011.
What next?  Obviously the new Wales Coast Path! 
As we live in Bristol, we walked it from south to north, the opposite direction to all the guide books. 
High Points
The southern section was day and weekend walks from Chepstow to Amroth.  I led members of the Bristol & West LDWA as far as Barry, where we had our photos taken with Gavin and Stacey.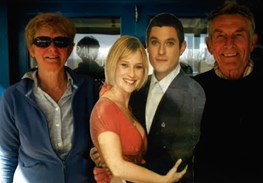 Mud, swamps, bogs and frisky "although not generally dangerous" cattle featured in the section between St Clears and Llansteffan according to my guide book; as it was a wet February after the wettest winter ever recorded -  I faced the problems with some trepidation but emerged unscathed. 
The storms had removed the sea front at Amroth but luckily walkers were allowed between the heavy machinery repairing the damage.  I even managed Dylan Thomas's 'birthday walk' on my birthday!
In summer 2014 we tackled Cardigan to Borth section, camping for a week using the Cardi Bach bus. 
Borth to Pwllheli followed; we camped by a small railway station, got a 'Two Together' ticket and really enjoyed the cheap travel, the coastal views and great weather.  Only one problem arose when we missed the replacement bus service back from Pwllheli after a 20 mile walk (the viaduct at Pont Briwet was being repaired).  We decided to hitch back, a lovely Dutch couple stopped and insisted on taking us right back to our camp site and refused a proffered bottle of wine.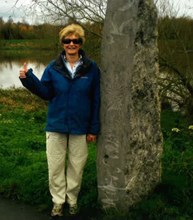 We rented a cottage to walk round the Llyn Peninsula, then cheap Premier Inns in November to complete Caernarfon to Chester, visiting all the castles on route and even attending a Remembrance service in Caernarfon town square all in Welsh.
I managed to walk round the Isle of Anglesey this summer, thus completing the 870 miles. 
Low Points
We had a combined high/low moment when force 10 hurricane winds blew my husband off his feet on the highest point of the path, Bwlch Yr Eifl at 1150ft between Nefyn and Trefor. I managed to sit down during the strongest gusts and survived!
I have now walked around AND across Wales, both South to North and East to West – WCP, Offa's, the Cambrian Way (over all the Welsh mountains) and Owain Glyndwr's Way.  The next journey is The Bristol to Brecon walk.
My lightbulb moment
....is how much more enjoyable is walking compared to staring at a computer screen; you see history, great scenery, meet some lovely people, experience all kinds of weather and, after 15+ miles, a sit-down and a cup of tea is heaven! 
Thanks to all who created this path and produced the information leaflets, the web site and especially the mileage tables. A great help.