John Haley and Johanne Léveillé
Your Inspiration
We live in Ottawa, Canada, so the Wales Coast Path is not exactly on our doorstep.  But in June 2011 we hiked the Pembrokeshire Coast Path from Amroth to St Dogmaels.  Wanting more, and with the official creation of the Wales Coast Path, we decided to continue to do it all.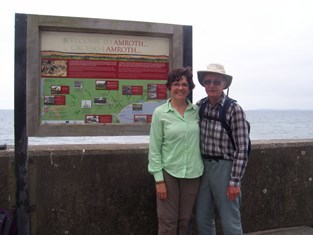 Start date:  In the very wet June of 2012 we squelched our way alongside Cardigan Bay to Porthmadog.  In two separate trips in 2013, one in the bitter cold of April and the other in the much more pleasant September, we hiked around the Llŷn Peninsula and Anglesey, and on to Conwy.  In June 2014 we trudged our way on too many hard surfaces from Conwy via the North end of the Wales Coast Path to Chester, and then from its South end in Chepstow to Swansea. 
Finish date: Then in June 2015 we hiked from Swansea to Amroth, arriving there on June 25 to complete the entire Wales Coast Path.
Our accommodation was mostly in B&Bs along the Path.  For each B&B we hiked for several days, using public transport between the B&B and the ends of each day's hike, and with occasional backpacks when we moved from one B&B location to the next. 
On our hikes, we found that markers along the Path were generally very good, but a few signs to the Path at key locations (e.g. bus stops, railway stations, and information centres) from just off the Path would be a help.
High Points
There were far more high points than can be listed here.  The Pembrokeshire Coast is deservedly well recognized as being spectacular, but every part of the Path has its own appeal and beauty. 
We were especially impressed by the remoteness of parts of the Llŷn  Peninsula, and by the charm of Anglesey.  A high point throughout all our trips was the friendliness and helpfulness of the people we met both on and off the Path.  For John, who has what many would call a fear of heights, a memorable high point was crossing the high-level walkway of the Newport Transporter Bridge.
Low Points
Most of these were physically low points where the Path descends to sea level - they were not mentally low.  But hiking on parts of the Llŷn Peninsula, when we had severe colds and there were bitterly cold winds, was a distinct challenge, supplemented by speed-record rides on a double-decker bus between Caernarfon and Criccieth.  Hiking on the  bicycle path between Flint and Chester was unpleasant and seemed  superfluous - this did not appear to us to be part of the coast.
Lightbulb Moment
As we hiked the Path, we recognized more and more what a wonderful achievement it is to have established this Path around the entire coast of Wales.  From a simple idea, years of work by many people brought it into being, and we, hikers on the Path, were the beneficiaries. 
On my 65th birthday, as we travelled by train from Birmingham airport to Porthmadog, just North of Tywyn we saw the new footbridge at Aber Dysynni, saving many steps that we had hiked the year before. 
It was clear that the Path continues to be maintained and improved by dedicated people who are mostly unseen by us, but to whom we give our heartfelt thanks.