Lucy O'Donnell and Eirlys Thomas
Our Inspiration
We didn't set out to walk the whole path. The path happened to us, it took control of our wanderings. It started as a bit of banter, as we ventured out to explore the path from our homes in Cardiff. We loved every day; every day threw up something new and we just kept walking and walking.
We didn't wanted to race, neither of us was that fit or had done any real training. We wanted to take the ultimate stroll around Wales enjoying the landscape as well as the sights, shopping, entertainment, food and people. It took us 100 days over 18 months and we enjoyed it all.
Start date: September 2016  Finish Date: May 2018
High Points
The wonder of our first walks never fades, despite how dramatic and iconic the scenery became in Pembrokeshire, North and Mid Wales. Those first walks where we were exploring and learning from our industrial landscapes and heritage in south Wales for the first time as walkers shed such a new light on places where we had gone to school, lived, grown up, and both made and lost friends and family.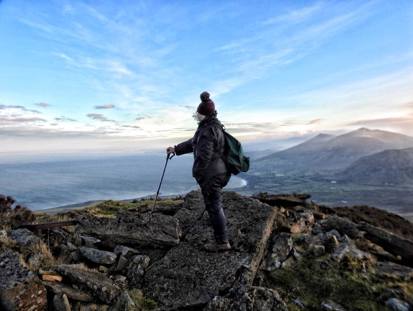 The landscape was always inspiring. Sometime during every day of walking when the pace has been set, the legs are warmed, there is confidence that the directions are right, lunch and water requirements have been taken care of when there really is nothing else to do but feel a sense of peace and be at one with all of the drama of the landscape.
We were joined by many friends along the way and had so many great conversations and experiences. We enjoyed restaurants and accommodation all the way around the coast. We saw a Royal Shakespeare Company live streaming in Holyhead, arrived in Abersoch with Santa, followed a Remembrance Parade and really did shop everywhere. Birthdays and Christmas presents last year were well sorted.
Low Points
There were challenges, long days, blisters, aching bones, and a lot of mud!! There were several falls in more than one bog, falls going up a hill, coming down a hill and whilst just walking along taking in the scenery.
We walked through the four seasons and on balance we are fans of winter walking despite the short days and unpredictable weather, but we just loved the lack of leaves on trees improving the view, a full choice of accommodation and restaurant availability and very few walkers.

Our Lightbulb Moment
Eirlys was taking fantastic photographs as we walked and we set up a website www.coastalwalks.wales which includes a blog written by Eirlys and the best selection of photographs for each day's walk. This was probably the catalyst for us to walk the whole path. We had put it out there, now we have to do it!
And if we can do it, you can too. Just give it a go. The path goes all around Wales and it is free. We started with our own patch and loved that so much, we just kept walking. And, we can now confidently say that walking along the coast clears the mind, lifts the spirits and certainly filled us with great optimism and confidence to take on any crazy project that appeals.

Don't let any guidebook convince you that you have to complete a 15 mile section a day, break it down to suit your ability and enjoy!