Nigel Pearce and Mike Cartwright
Name: Nigel Pearce with Mike Cartwright (with a cap) and Paddy the dog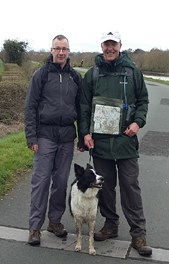 Your Inspiration
Always wanted to do something that not many people had achieved and we were inspired by a simple love of the outdoors and the escapism that several hours walking gave us.
Start date
We set out in June 2014 to walk the Ceredigion coastline and after completing the Pembrokeshire coastal path we decided we had to finish the whole path. So we back tracked the bits we missed then headed north.
Finish Date
We completed the path on the 22nd of March 2017. It was a strange moment I think we felt a little sad that it was over it had been so much a part of our lives.
High Points
Pembrokeshire is a beautiful stretch of coast, if you're going to just do part of the path then that bit alone is worth doing.
There was a moment in North Wales when we came off a mountain into a saddle and stretching before us curving in an arc was the Llŷn Peninsula and the rugged mountains of Snowdon still topped with snow, it was breath taking.
Something to tell the grandchildren!
Generally the whole experience has taught us much about the history of Wales,the scenery and wildlife. Something that I can always look back on and one day I can point at the map and say to my grandchildren I walked all the way around there.
We both loved Abersoch and the estuary at Laugharne and the small but beautiful Samson bay in Porthmadog.  Anglesey is a beautiful island with a peaceful air about the place. We stayed in a lovely cottage at Cemaes Bay and ate the biggest steak pie ever in the local pub.
Low Points
We had a very wet day when we walked the Newport wetlands, it was just that, wet and very muddy the entire 20 odd miles we walked and I didn't bother with my over trousers so got the worse chaffing ever. I nearly passed out when I had a bath.
We were put on different shifts in work that meant the last sections in North wales were difficult to organise as we had to use annual leave and re rostered days off to enable us to finish.
My Lightbulb Moment
Absolutely dying for a cup of tea in Anglesey to walk through a series of dunes and finding a café straight in front of us, it's the simple things in life you know. Realising that Paddy was the first dog to complete the path. 
There is always an excuse not to do something I will just say this just do it and will end with a quote:
"THE MORE DIFFICULTIES ONE HAS TO ENCOUNTER, WITHIN AND WITHOUT THE MORE SIGNIFICANT AND THE HIGHER IN INSPIRATION HIS LIFE WILL BE"

At the time of writing we have just started the first leg of Offas Dyke.
Images by Nigel Pearce  
Flintshire - Nigel Pearce, Mike Cartwright (with a cap) and Paddy the Dog 
Newquay, Ceredigion
Aberystwyth, Ceredigion