Zoe Wathen
Zoe Wathen - The first woman to walk the Wales Coast Path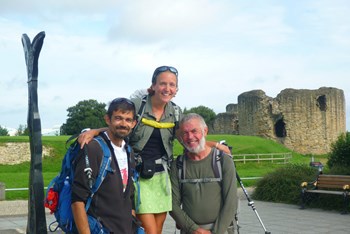 July 21st 2012 saw the start of WathWalk number 2. In 2011, I walked the South West Coast Path in 47 days - this was my first long distance path - and thought it would be my only one. However, the experience was something that I wanted to capture, bottle and take home with me. So when friends and fellow walkers, Steve Webb and Mike Langley, announced they would be walking the new Wales Coast Path in the summer holidays of 2012, the pull was too much to resist! Mike and Steve planned to walk Offa's Dyke first and then met with me in Chepstow where we continued with our 'tour'.
High Points
Bumping into an old neighbour at Worm's Head left me bouncing excitedly! The most scenic stretch definitely had to be the Pembrokeshire Coast Path with the Gower coming a very close second. The area around Strumble Head was stunning and I only wish I had the opportunity for a longer period of time just to stroll along this incredible landscape. I was thrilled to meet an Air Ambulance pilot and to be offered the chance to talk with his crew. I admire their dedication and am relieved I was able to see the helicopter under these circumstances and not as an emergency case!
Low points
Brambles, nettles and blisters were real low points for me within the first two days and my family were 150 miles away! Worst still, I soon realised I had left my twelve year old walking poles at home, so they were immediately posted ahead for me to collect. The 'breakdown' happened at a mail sorting office where I learnt my beloved 'go-with-me-on-every-adventure' poles had been sent to a sealed depot in Belfast for disposal! However, the HARDEST day involved battling along the beach in a gusting 60 mph headwind at RAF Valley towards Rhosneigr. I could hardly stand up and had to cover my face as the wind, sand and driving rain was stinging my skin. Regardless, Mike and I walked 22 miles that day.
Quirky points
I now feel a greater sense of achievement; not only for completing 870 miles in 43 days but that I have finally learnt how to successfully herd some feisty heifers and cows and rescued a stricken couple from Wrexham who believed were being herded themselves! Some of the sights we encountered were surprising, including an early morning naked photo shoot for a charity calendar! I may admit to lingering longer than needed…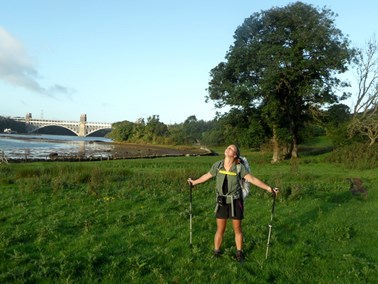 Arry Beresford-Webb and Dave Quarrell should feel proud of their achievements. It was a grand realisation that left me skipping somewhere along the stretch of this new path that in fact, I am (to the best of my knowledge) the first female to have walked the Wales Coast Path in its entirety!
Apart from the sheer enjoyment of walking and the need to feel challenged, the main reason for my epic adventure was to continue raising money for three charities; Technology equipment for the school in which I teach, Julia's House Dorset Children's Hospice and Woofability Assistance Dogs for the Disabled. By December 2012, over £5,600 has been raised and our WathWalk club of determined students are there to help me reach my ongoing target of £10,000.
The friendships forged and the kindness and generosity of the people and traditional Welsh communities we met along the way simply bowled me over. I came home with over 5,000 photographs and began to wonder how I had managed to find time to walk at all, with so many images on my camera! Wales is beautiful, regardless of the weather (as 2012 was not the best year for summer sun), but we made the most of it and I would recommend the experience to anyone planning a similar trip!
You can follow on my Facebook page  http://www.facebook.com/headrightout, Instagram and Twitter @HeadRightOut or go to my website www.headrightout.com to watch for new challenges!