Walking itineraries on the North Wales Coast
Here are a few of our favourites walks and recommendations showing off the best of the Welsh coastline
Our highlights
Flint Castle and Dee Estuary
Flint Castle was the first castle to be built by King Edward I and he went on to become quite a property developer leaving behind a network of castles in Wales. This is a lovely spot to explore which also takes in a walk along the Dee Estuary, home to thousands of wading birds in the winter. Find out more about Flint Castle.
Holywell to Flint: 2016 Year of Adventure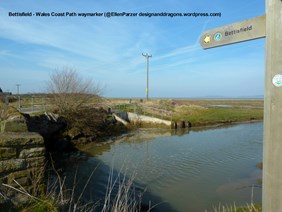 This moderate 8 mile linear walk is a mini adventure stepping back into Welsh history that's full of industry, a castle and a towering steel dragon with a beacon on its back which is lit for special occasions. It has been poised to protect from enemies from the east whether they be across the river or across the world!
Birds Galore!
Bird lovers will love this section of the path. The Dee Estuary that spans the English Welsh border is one of Britain's best hot spot for spotting thousands of wildfowl and waders making this a bird lover's paradise.
Head over to Point of Ayr lighthouse on Talacre Beach to try and spot seasonal birds such as avocet (the RSPB's emblem), oyster catchers and roosting waders.  You may recognise the lighthouse which was featured in a paint advert showing the Dulux dog running across the beach.
A castle awaits!
King Edward I chose the location of his first Welsh castle very carefully in a mission to quell any Welsh uprising against the English.
Begun in 1277 and taking over nine years to complete, Flint Castle sits on a rocky promontory on the marshes of the Dee Estuary.  Marvel at the impressive towers which are fantastic vantage points over the Dee Estuary and the top quality masonry work all around the castle.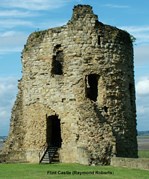 Resources
Download the Weatherman Walking itinerary from the BBC website (includes map and points of interest in pdf format.)
For more information about what birds can be seen at Point of Ayr, visit the RSPB Cymru website 
For more information about Flint Castle, visit the CADW website
Family walks with a difference 
Use our app to experience a walk with a difference with the younger members of your family.  They can try their skills at shooting artilary training just like the soldiers did on the Great Orme in Llandudno back in World War Two. 
More details are on our "The Great Orme Family walk with a difference" on our Itineraries page.  You can download and print out the leaflet to take with you to experience a walk with a difference.
Short walks
A collection of our recommended walks up to 5 miles in length, they provide a great way to explore the area without needing to invest too much time.
Little Orme (0.5 miles / 0.8 km)
A newly surfaced wheelchair access path. The path takes you out to Angel Bay which is great for bird and seal spotting. For more of a challenge, continue onwards over the Little Orme towards the town of Llandudno.
Great Orme Summit Trails (1 to 1.5 miles / 1.6 to 2.4 km)
Scenic summit trails take in wonderful views over the elegant town of Llandudno and across to the Menai Strait and Anglesey. The paths are steep in places so if want you the view without the walk, you can reach the top by tram or cable car. The wide range of flowers on the Great Orme provides food for the clouds of butterflies that are seen in summer – and look out for the resident goats. Find out more about the Great Orme Summit Trails.
Conwy Mountain (3 miles / 4.8 km)
Conwy Mountain, on the Coast Path's inland option, stands proud to the west of Conwy and is served by a good network of paths which you can explore at your leisure. In summer the hill turns purple with bell heather. The summit has fine views and is the site of an Iron Age hill fort.
Llanfairfechan to Morfa Madryn (3 miles / 4.8 km)
This circular walk takes you along the Llanfairfechan promenade towards the Local Nature Reserve of Morfa Madryn. This is a great spot to watch for oystercatchers, curlew and other wildfowl and waders. Find out more about Llanfairfechan to Morfa Madryn walk (Route 1)
Talacre Beach to Prestatyn (via Gronant Dunes) (4.5 miles / 7 km)
Explore this beautiful section of the coast which takes in the Point of Ayr lighthouse. You will travel along the popular Talacre Beach and through a rich dune habitat before arriving at Prestatyn with its wonderful beaches and traditional seaside delights. (Bus)
Rhyl to Pensarn Beach (5 miles / 8 km)
Enjoy the fun filled seaside town of Rhyl with its seemingly endless sands before continuing along the coast to Pensarn, near Abergele. You'll travel through Kinmel Bay which is a popular spot for watersports enthusiasts. (Train or Bus)
Long walks
If you're looking to explore more of the coast path, or feel up to a more substantial challenge, take a look at our recommended longer walks over five miles in length. They're a great way to immerse yourself in our incredible coastline.
Colwyn Bay to Llandudno (via Little Orme) (5.5 miles / 9 km)
A lively and popular seafront walk with great wildlife spotting opportunities at the Little Orme. Continue on towards Llandudno and discover the charms of this well preserved Victorian seaside holiday resort. (Train or Bus)
Dee Estuary – Flint Castle to Basingwerk Abbey (6 miles / 10 km)
A magnificent walk along the Dee Estuary between the 13th century Flint Castle, the first to be built when King Edward I invaded Wales, and the 12th century Basingwerk Abbey (which lies approximately half a mile inland from the Coast Path at Greenfield). (Bus)
Llanfairfechan to Dwygyfylchi (7 miles / 11.2 km)
A walk in the foothills of the Carneddau mountains with stunning views across Snowdonia to the Great Orme and over the Menai Strait towards Anglesey.
Great Orme Circular (13.8 miles / 14.5 km)
A route around the Great Orme with fantastic views across the whole of the North Wales coastline. Takes in the ruin of Deganwy Castle. Find out more about other Great Orme Trails
Rhyl Circular (14.3 miles / 23 km)
Start at the Sea Life Centre in Rhyl and walk along the coast towards Prestatyn and its three beaches – Ffrith, Barkby and Central – with stunning views as far as Anglesey and Snowdonia. You turn inland to pass near Meliden and towards the waterfalls near Dyserth. You return to the coast and Rhyl via the bank of the Afon Clwyd.