Piers and Promenades
Piers and Promenades: find your spring in winter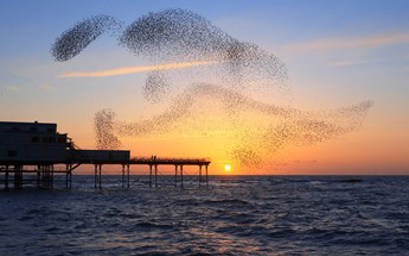 Autumn and winter are not always, at first glance, the most appealing seasons to head out for a walk. But find the right route and you'll discover a way to throw off the murkiest day and delight in your own patch of blue sky.
When our hibernation instinct kicks in it's easy to succumb to the warm and cosy. Major hikes across open fields and along exposed cliff tops in the darker months do not have immense appeal to most. But, imagine if you could find a walk which is more of a casual stroll? One that is enjoyable in almost every weather? Where all the family can head out for an adventure? The Wales Coast Path may just have the perfect solution for you along its piers and promenades.
Covering 870 miles of coastline, the Wales Coast Path features almost every type of terrain that the British countryside can offer. On the piers and promenades you can find the perfect answer for a less than challenging winter walk with excellent access for all.
Just pop on some warm clothes, hats and scarves and head out. If it's wet, grab wellies and waterproofs. You don't need the most expensive gear, just something that will keep you as warm and dry as possible.
The Minister for Culture and Sport, John Griffiths said: "Getting out and about for a walk in the winter can be an exhilarating and enlivening experience and there's nowhere better to my mind than the stunning Welsh Coast. The Wales Coast Path contains some fantastic walks that are suitable for walkers of all ages and capabilities that take in picturesque seaside town and places where cities meet the sea. There really is something for everyone."
Enjoy a taster of some of our favourite winter strolls:
North Coast
There is something surprisingly appealing about seaside towns in the winter. Peace and quiet has descended as the crowds have left for the season and the gulls seem to have the place to themselves. Somewhere a café waits offering a chance to warm up before heading out once again, perhaps for a bracing stroll high above the waves along Wales' longest pier at Llandudno.
Beaumaris promenade and pier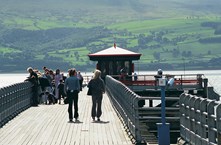 Sometimes dubbed the Anglesey Riviera, the pretty seaside town of Beaumaris is worth exploring. The pier offers great views of the town with its unusual mix of architecture as well as over to the mainland. It is also reputed to be one of the best spots for miles to try a spot of crabbing, though this may be best saved for the warmer summer months.
Bangor Pier
With onion domed kiosks and ornate ironwork, Wales' second longest pier is considered to be one of the finest surviving piers in the UK. Its prettiness is enhanced by the spectacular setting at the foot of the Snowdonia mountain range. It's a great place for bird watching so take your binoculars or just enjoy a gentle amble to the tearoom at the pier head where you can enjoy a refreshing brew and slice of cake over the turbulent waters of the Strait.
Aberystwyth sea front
Enjoy a stroll along the front at Aberystwyth timed to arrive for a view of the pier as the day draws to a close. Thousands of starlings will be flocking home to their roosts at the pier and their acrobatic display (called a murmuration) sees the starlings twist and turn as though one through the sky.
Tenby
This pretty Victorian town is hugged by the sea and is a wonderful place to visit out of season. The parade above the north beach offers spectacular views across the harbour and out to sea. Go 'off-road' and stroll along Tenby South beach before heading back to town to enjoy some fish and chips. (Info at: Pembrokeshire Coast National Park Authority)
Millennium Coastal Park
With views over the Loughor Estuary towards the Gower Peninsula, this very modern promenade offers a purpose built route ideal for a family friendly day out. Explore on foot or pack some bikes and start exploring. (Info at Discover Carmarthenshire)
Mumbles
Walk along Swansea Bay's famous promenade (site of the world's first passenger railway) with views across the bay to Mumbles Head. Once in Mumbles, it is worth a visit to the lifeboat station where you can find out about the vital and heroic role the RNLI has played in saving lives at sea.
Porthcawl, Penarth & Cardiff Bay
A selection of very different coastal walks. Porthcawl seafront is great fun throughout the year and is an ideal place to watch surfers in action. If you are city based, why not explore Cardiff Bay Barrage. It connects the vibrant Cardiff Bay to Penarth where the pier adds traditional seaside flavour to your walk. Along the way, you'll find plenty of places to stop and watch the world go by or warm yourself with a hot drink. Penarth Pier is a wonderful stroll with great views and the newly restored Pavilion offers a welcome retreat (there's even a cinema) should the weather take a turn for the worst. (Info at Penarth Pavillion.)
With the wind in your hair and salty sea air in your lungs, winter walks work their magic leaving you tired but happy before your return to the warm and cosy. A good night's sleep beckons and you'll surely wake refreshed and ready for another adventure. What a way to pass the winter.