Jane Hafren
Jane's Wales Coast Path Odyssey
The Challenge
To start the Wales Coast Path in the year it was opened and walk all of it plus Offa's Dyke, mostly at weekends and enjoy every moment.
Gorgeous Pembrokeshire and Gower and an Engagement
At least 90% of the Wales Coast Path is fabulously beautiful. 
My favourite parts in Pembrokeshire included the tiny beach at Pwllgwaelod. I arrived at the end of a very hot day last summer and waited while Stu, my intended (and amazing back-up team-of-one) finished a swim, then watched as the late afternoon sunshine dipped towards the sea.  St Brides Bay was gorgeous - Newgale, St David's, Whitesands Bay and my lunch stop overlooking Caerfai Bay.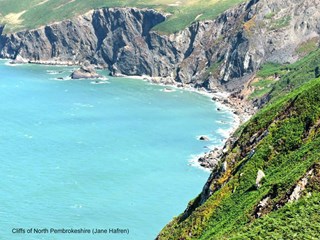 Camping between Little Haven and Broad Haven at a tiny site was wonderful.  We were rewarded with the best sunset on the whole walk.  The Gower is fabulous.
At Barmouth we had a family get together, when my brother's and brother-in-law's families joined me and Stu for a couple of day's walking.  One evening turned into an impromptu engagement party for us.   Happy memories.
Anglesey was lovely surprise, and the Lleyn between Morfa Nefyn and Trefor over high cliffs, past gorgeous deserted beaches was just fabulous.
Industry, Tarmac and High Tide…
Newport, Port Talbot and East Cardiff are not pretty parts of the WCP.  Rhyl is ghastly.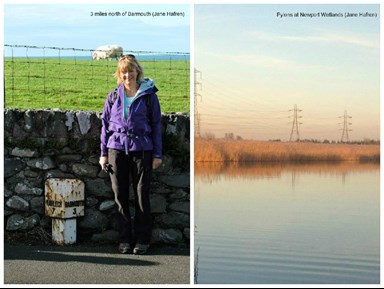 There's a part of the northern shore of Milford Haven, I didn't like at all.  It wasn't the industry, the ships, or the oil pipelines, it was walking beside them late one afternoon along a corridor between the oil terminal and a wind farm.  A lonely, bleak and spooky place.
Then there was my near miss with high tide and darkness on the 4 mile beach of Hell's Mouth…
The worst walking on the Path is the 70 mile 'prom' along the North Wales Coast interrupted only by the lovely Conwy estuary and the fabulous Great Orme.  It's unfortunate these wide sandy beaches are flanked by road and rail.   The tarmac makes the going really hard on your feet, but the miles disappear quickly.
Grief and Solace
I'm raising money for the small cancer charity, Odyssey in memory of my beloved sister, Ali.  They help people with a terminal diagnosis to live longer, happier more fulfilled lives.  Ali had completed a 225 mile bike ride through Wales with an Odyssey group in September 2013, a very positive week in her last months.
My lowest time on the path came right after her funeral.  She had been diagnosed with terminal cancer at Easter in 2013 and died 10 months later, aged 49 in February 2014.
I went straight back to the Pembrokeshire path alone.  I wanted to be alone.  Walking during the short days helped.  I was supported and soothed by the path, navigating my way over headlands and cliffs, beside wonderful beaches and through green-grey woodland.  It helped, but the long winter evenings were oppressive.  I only lasted three days.
Fundraising
The work Odyssey does with cancer patients and their families is so worth supporting.  My fundraising target is £5000.00 and I'm 76% there to date. Read more on my Just Giving page Ali had completed a 225 mile bike ride through Wales in September 2013, a very positive week in her last few months.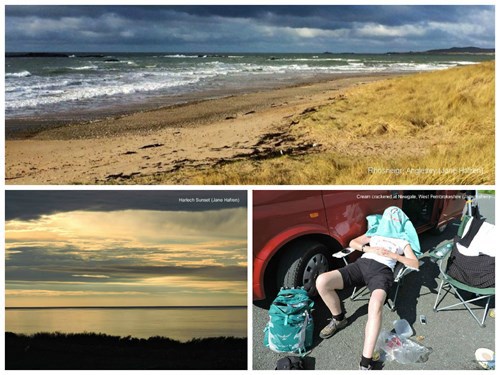 For more details contact Jane Hafren:
E-mail jane@thewalkoflifecoach.com
Website: www.thewalkoflifecoach.com
Follow me here:  www.facbook.com/jane.hafren or on: www.facebook.com/JaneHafrenTheWalkOfLifeCoach
Footnote:  I'm getting married in a week's time to a man I hadn't met when I started my walk.  I'm writing a book about my WCP/Offa's Dyke trip.