Mike Langley
Mike is the first over-sixty year old to walk the Wales Coast Path and Offa's Dyke Path National Trail back to back (that's more than 1000 miles). Here is the tale of his adventures
Challenge
I live in Abergavenny, close to the Sugar Loaf and Skirrid mountains and have been long distance walking for a number of years. I was drawn to the Wales Coast Path in particular, as I have already completed the Cambrian Way and having walked up through the centre of Wales it seemed like the most natural progression for my next trek! The opportunity to link with Offa's Dyke and walk the circuit of the country was decided over a beer or two when my fellow walkers, Zoe Wathen, Steve Webb and I visited Cardiff for the grand opening of the Wales Coast Path on May 5th 2012. Being retired, I guess I set out to face this, my longest challenge walk yet, and become the first 'over-sixty' to walk 1047 miles around Wales!
High Points
After starting from Prestatyn in July and taking a wet and muddy nine days to walk Offa's Dyke, Steve and I were relieved to meet with Zoe and some other friends in a hot and sunny Chepstow. Thankfully, this summery spell stayed with us for a week. I found it interesting to walk through all the urban areas as well as the countryside. Although some may not see it as picturesque, having been in the construction industry I was intrigued by the engineering of the various bridges and the power stations. Passing through the Mumbles and the Gower was beautiful. However, starting the Pembrokeshire Coast Path, the footpath soon changed; the terrain was rugged and the landscape was dramatic and we met many supportive people who were keen to hear what we were doing and encouraged us to keep going. Many of them had covered the path over a number of years and were impressed I was walking it in one hit, at my age! There were days when our kit was drenched, through wet weather. I remember one day, pretending to fly down a hill like Superman with my sleeping bag strapped to my rucksack to dry. Little moments like these, although may seem silly to some, were light-hearted and helped to keep our spirits up when days were tough (plus, it assisted the drying of my gear too!) We visited many churches, as I enjoy exploring the architectural features. All of the churches were welcoming towards us but one small church in particular at Llanbadrig, near Cemaes on the Isle of Anglesey stands out. On meeting an inspiring warden, Dorothea Bullock, we found ourselves engrossed in the history of the church and her family connections with the area. Her enthusiasm was so uplifting that we left the church walking on air that day!
Low Points
There were not many low points for me but being the wettest summer in Wales for years, there were a few muddy moments. On descending a stile, I landed in mud, leaving my walking shoe behind – causing great amusement to my friends! On another occasion, walking on the beach for 4km, I found the high winds, rain and driving sand took my breath away. Not the most enjoyable day of the journey but reaching a warm and friendly café in Rhosneigr helped us to dry out and get warm again and it's worth saying, the crashing waves were spectacular in that weather!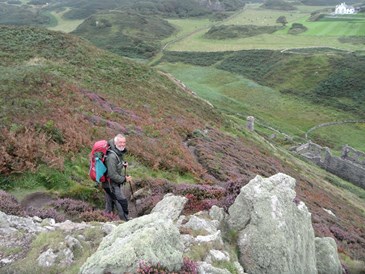 Probably the most notable low point for me happened on the last day. I was walking along a grass verge at the side of a main road, to relieve my feet from the hard surface of the pavement for a while. My sunhat was on and as it has a wide brim, I didn't realise there was a road sign in front of me! Needless to say I walked into it, head first! The next few minutes were spent with my friends administering first aid to a superficial but bloody wound on my forehead. We joked that only I could walk for 1,037 miles with no injuries and then manage something like this with just ten miles to go! I think my trusty hat actually saved my forehead as it could have been far worse!
Many lasting memories will stay with me following the completion of this challenge. Despite saying I would not need to do another mammoth challenge again after this, the experience has now spurred me on to further adventures; I am now planning a walk of all the high points over 600 metres in Wales, anticipating this to take twelve weeks. I am sure the spirit of the Wales Coast Path will remain with me as I take on this new venture and on the occasion when the coast comes into view, it will undoubtedly bring back one old codger's happy memories of being the first 'over-sixty' to spend fifty-two days walking the circuit of Wales which includes this great new coast path!
Twitter: @mikethegrump