The challenge
I live in beautiful New Zealand (Christchurch on the South Island) where I have been a resident for 10 years. As a 75 year old ex-marathon runner I was looking for a new challenge. A solo charity walk, not a race, seemed like a good idea. I decided on the Wales Coast Path walk as I have a strong affinity with the Welsh and was married to a lady from Taffs Well for 49 years. And what a walk I chose: offering unspoiled natural beauty and spectacular contrasts throughout the eight regions. I took 72 days to complete the route averaging 12 miles per day and I raised £1,400 for the RNLI in the UK and approx $3,000 NZ dollars for the Canterbury Air Rescue Helicopter Service, New Zealand.
Wonderful moments
 I left Queensferry near Chester with 109 Ordinance survey maps (covering the full 870 miles) on such a high. I was very much looking forward to revisiting amazing locations in Wales where I'd spent happy holidays with my late wife Mary, walking along magnificent cliff tops, on the shoreline of idyllic romantic beaches and on seaside promenades. I found walking through the ancient woodlands was a joy. There were carpets of bluebells and other wild flowers in abundance everywhere! My greatest memories are of isolated places watching pairs of goats playfully charging and locking horns and of thousands of newly born lambs frolicking around the ewes – great simple pleasures! There was an amazing sight near Whitesands of over 100 horses - half of them foals, grazing in a vast meadow. The sheer beauty of taking a rest stop at Mwnt while watching dolphins took my breath away! I viewed the new £2.7 million lifeboat offshore at St Justinians – good on the woman who kindly made that particular donation! I experienced the unusual joy of sleeping on a sun lounger on the landing of the Felingog B & B at Solva as there was no other accommodation in town that night (due to a local wedding)! I had the unexpected pleasure of meeting Rod Morgan at Newgale Beach who was training for the Walk On Wales charity walk. He was an ex-Welsh Guardsman also taking on the challenge of the entire coastal path. I so enjoyed meeting many generous, warm hearted people who extended the hand of friendship everywhere I travelled. How good was that?!
The low points
A few self inflicted tough days, nothing to do with the hilly, rocky terrain, but with an increased alcohol intake due to over generous people buying me drinks in bars - it would have been impolite to refuse the hospitality offered! I had a few very wet, windy cold days when I didn't even see a man and his dog all day. I felt lonely and vulnerable out there alone trudging on the path. Then finally, upon reaching the 500 mile mark I foolishly decided to celebrate with a leap in the air, twirling and landing awkwardly which resulted in a sore knee for weeks. What a silly old so and so!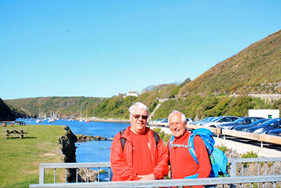 The end
I received fantastic support from friends and relations along the route, and even had an unexpected champagne and cake reception committee at the finish in Chepstow! I just loved (nearly) every minute of this epic walk. A truly remarkable journey.
Thank you Wales so much!
Peter Alan, the 'mad' walker