Your Inspiration: Being retired and having no time constraints.
Start date: 7th May 2016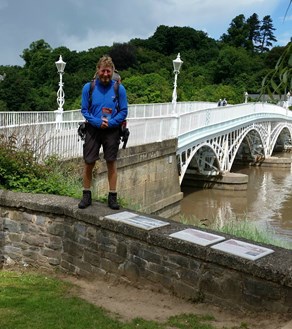 Finish Date: 25th June 2016 (and finished Offa's Dyke Path on 4th July).
High Points
Meeting so many genuine people who were interested in the walk, as well as the generosity of the Welsh people I was given a couple of free nights at 2 campsites because of what I was doing.
Also to backpack it all the way round spending every night in my tent and completing the Wales Coast path in 50 days and Offa's Dyke in a further 10 so totalling 60 days with no rest days and beating my schedule by 20 days.
Low Points
Wearing out my expensive pair of leather boots and having to buy a cheap pair to see me through till the end of the coast path and to do Offa's Dyke as well, especially with the bad weather I had wet feet for almost 2 weeks.
I had only one bad day where I thought why am I doing this, with being on my own it was hard work keeping motivated but I knew I had to do it, My girlfriend kept me going by phone calls and keeping me up to speed with the weather forecasts and also where I could get food and campsite locations.  
My Lightbulb Moment
There are so many moments and experiences whilst doing the walk such as getting some rather funny looks of a couple of women in a shop in Porthcawl I couldn't understand why until I took my rucksack off to put my groceries away to see my underpants and socks hanging there to dry - not a good sight!
Swapping my worn out boots with this army lad but they were to high up my calf causing more pain hence having to get a cheap pair in Carmarthen which was my first opportunity I wished I had kept my worn out pair at least my feet would have stayed dry.
Pushing myself twice doing over 27 miles on 2 separate occasions firstly to see England lose to Iceland and secondly to get to watch Wales play Belgium football game in Euro 2016 - only to find the only pub in Wales not to have a TV - gutted!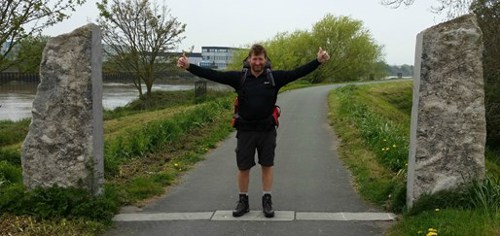 Image (above): Flint/Chester start/finish point (North)
The walk is very well sign posted and waymarked I only took one bad turning which cost me a couple of miles but I did save a few when I forded a river just past Coney beach wearing a shoe I found and a flip flop washed up on the shore I did try to walk across in bare feet but the stones were cutting my already blistered feet.
The flip flop snapped half way across but help was on my side I found an old boot albeit a right one which was soon forced onto my left foot, hey presto! I was across and saved the mileage all to the amusement of several people watching at Ogmore- by- sea.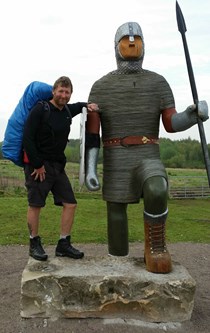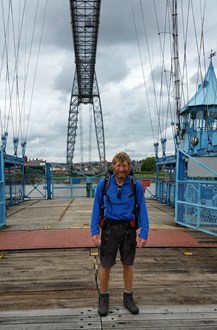 Image (above left): With Soldier statue at Flint Castle, Flintshire.
Image (above right): Transporter Bridge, Newport
To save a couple of miles I paid £3 for a ticket to walk across Newport suspension bridge after climbing the 280 odd steps to the top I was having second thoughts. But as I said I had paid £3, so whistling the tune "Men Of Harlech", I boldly strode across without looking down - conquering my fear of heights at the same time !
The scenery is superb from start to finish even when hitting all the industrialisation however one outstanding place which will always remind me of the walk is the magnificent cathedral at St David's where I had my tea overlooking it.
All in all a truly amazing adventure I would recommend to every long distance walker if they could do the entire walk in one fell swoop all the better.
And you don't mind being chased by a herd of young bullocks and are willing to lose 2 ½ stone in weight I would still recommend it!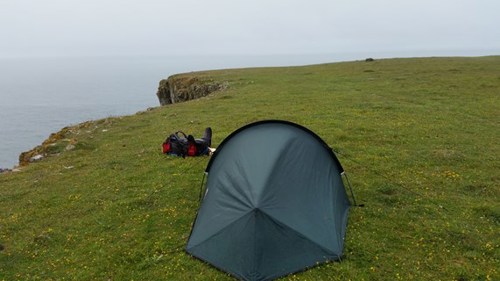 Image (above): Tent at Stackpole, Pembrokeshire.
(Images: Ron Spark)